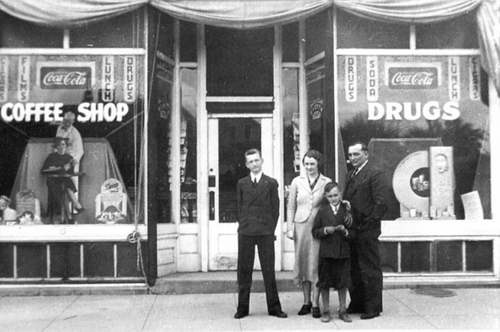 History
Trumm Drug celebrated 60 years of service to the Alexandria area in 2011.
In 1951, Archie and Clara Trumm came to Alexandria and purchased Lewis Drug Store from the George Lewis family. The store was originally located at the corner of 6th and Broadway in Alexandria.
Sons Bill and Jack Trumm had joined the family operation, and took over as owners in 1963 after Archie passed away.
With the success of the business came the need for expansion, so in 1969, Bill and Jack had the new Trumm Drug store built at its present location at 600 Fillmore, which was next door to the Alexandria Clinic.
The proximity to doctors, the convenience of easy access parking, and the larger store spurred continued growth in the business, and in 1979, Trumm Drug II was built and opened at 15th Avenue and Broadway, next to the Broadway Medical Center.
The third generation of Trumms to join the business started with Bill and Suzie's sons, Mark in 1980, and Paul in 1981.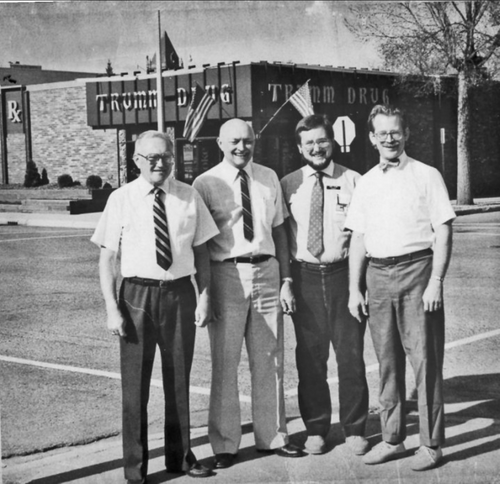 Jack and Jenny's son, Greg, started work in 1989. That same year, Trumm Drug purchased Folsom Drug from Gary Folsom, and Trumm Drug Parkers Prairie was born.
In 1997, Trumm Drug II was relocated from Broadway to the new Alexandria Clinic as Trumm Drug Clinic Pharmacy.
Another Trumm operation, Trumms Home Medical Specialties, began as a medical equipment store specializing in wheelchairs, walkers, hospital beds, braces, canes and crutches, support stockings and other home medical needs. In 2000, Trumms Home Medical moved to 610 Fillmore, next door to Trumm Drug.
The Trumms expanded to Elbow Lake October 1, 2002, with the purchase of Johnson's Pharmacy. That addition increased the Trumm family of pharmacies to four.
Trumm Drug Glenwood began operation on October 1, 2006, when Trumm Drug purchased Corner Drug Store from Dewey Essig. Our dedicated staff continues the tradition of quality, caring, family-owned service that Glewnwood area residents have always received.
The Trumm family thanks the entire community for the opportunity to serve residents for 50 years and has now paved the way for a new set of owners.
Aaron Finley and Allan Fettig continue the Trumm motto as the new set of owners.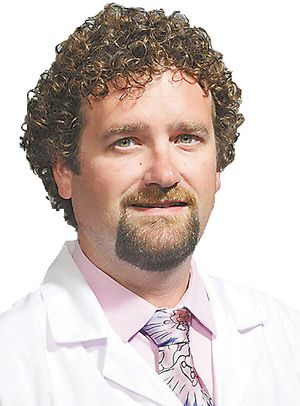 Aaron Finley
Working at Innovative Therapeutics and the Downtown Alexandria Trumm Drug, Aaron enjoys educating people and helping them become more involved and achieve positive results from their medications. "Their appreciation they show is very rewarding," notes Aaron.
Aaron graduated from the U of M College of Pharmacy in 2002 with a Pharm. D. degree. Aaron has extensively studied rural pharmaceutical care and uses his knowledge to assist all Trumm Drug patrons with their health care needs.
When not working, Aaron enjoys reading, music, hunting, fishing, hiking, backpacking, and all the activities the Alexandria community offers. When asked what his favorite thing about working at Trumm is, Aaron focuses on the wonderful people he has met: his patients, customers and friends.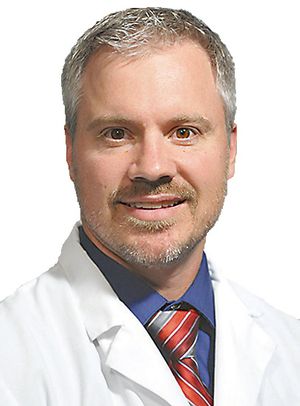 Allan Fettig
Allan works mainly at the Alexandria Clinic Pharmacy and the downtown Alexandria Trumm Drug locations.
Allan joined the Trumm Drug family as a 2006 PharmD graduate of Creighton University in Omaha, NE. Allan believes that "pharmacy is an integral part of every person's health care. Professionalism, trust, and customer service are my goals as a pharmacist."
In his spare time, he likes spending time with family as well as hunting, fishing, softball, golf and woodworking. Living in the "lake country" is what he likes most about being in central Minnesota.
Allan's interest in becoming a pharmacist was sparked by learning how medicines work in the human body. To Allan, the most rewarding aspect of working in a pharmacy is managing a patient's medication therapy to help achieve the patients goals. "The friendly family atmosphere" is what Allan enjoys most about being a part of Trumm Drug.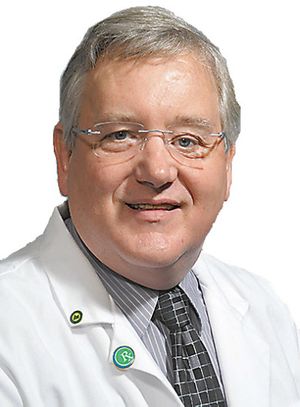 Mark Trumm
Mark Trumm has followed in his family's footsteps. A third generation pharmacist, Mark takes great pride in working at both the Trumm Drug downtown and Alexandria Clinic pharmacies.
An active member of the Minnesota Pharmacist Association, Mark caught the "family disease" at a young age. "I was never pressured to go into pharmacy, I was raised around it and it always interested me," says Mark. "Helping people toward better health and understanding their medications is very rewarding."
Mark enjoys working at Trumm Drug because of the family environment. "It is just a different atmosphere than most corporate work environments," he boasts. "Employees and customers are like an extension of the family." Being born and raised in central Minnesota, Mark most enjoys the places, the seasons, and the people.
Mark recently became a pilot, and in his spare time, he most enjoys flying and traveling with his wife Betty. When grounded, he also especially enjoys action adventure and science fiction movies.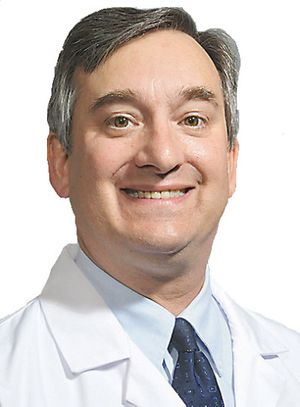 Greg Trumm
Being a Trumm, Greg says pharmacy is in his blood "like a terminal illness." and joins his cousins Mark and Paul and follows his father Jack in the pharmacy profession.
Greg is a long-time pharmacist at Trumm Drug Parkers Prairie, The Alexandria Clinic pharmacy and the downtown Alexandria locations, where he provides pharmaceutical care to Trumm Drug patrons.
Helping people and supporting the community are his number one goals. Greg believes that "taking responsibility for a person's total drug therapy and the results of that therapy is the best way a pharmacist can optimize healthy outcomes."
His favorite part of being at Trumm Drug is "being part of an organization that is an active participant in all the communities we serve."
When not at work, Greg enjoys the changing seasons of central Minnesota, and all the great outdoors has to offer. In addition to spending time with family, he likes to take time out for sports, friends, and fire watching.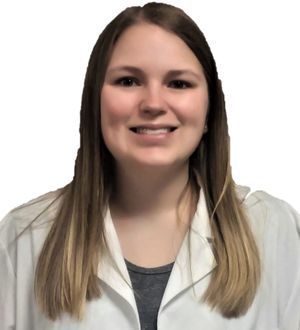 Caitlin Pederson
Recently joining the Trumm Drug team is Caitlin Pederson. She is a 2017 graduate of North Dakota State University and is primarily located at our Glenwood pharmacy. She decided to pursue a career in pharmacy after having a great experience working at an independent pharmacy while in college. Being from a small town, she is excited to work as part of a team that has that same close-knit feel.
In her free time, Caitlin enjoys spending time with family, reading, crafting, and being outside. She hopes to continue to build strong connections and trust with her customers and is always willing to help with any questions or concerns they may have.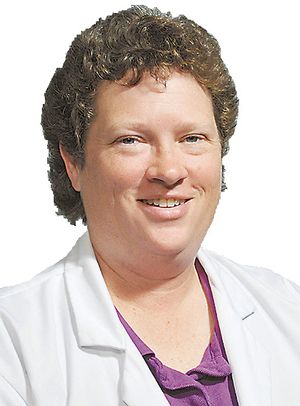 Kristy Hanson
Kristi Anderson joined the Trumm Drug Pharmacists October 2006 when Corner Drug in Glenwood became a Trumm Drug. She continues the tradition of quality and service she helped establish. Kristi is mainly at out Downtown location.
Kristi believes the best and most efficient pharmacy is found when a group of individuals work well together. "I find that working with all the staff at Trumm Drug supports this belief completely."Kristy enjoys spending any time she can with her family and can't imagine raising a family anywhere other than here. In her spare time, she also enjoys doing any number of "projects" around the home and has recently taken up gardening. What Kristy likes best about being apart of the Trumm team is that it has the most optimistic and friendly atmosphere at every level.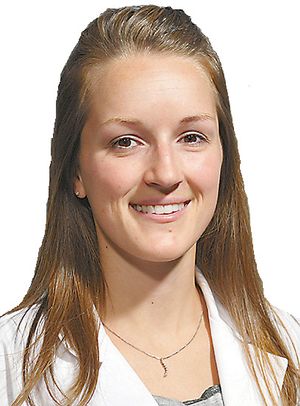 Robyn Anderson
Say hello to Robyn Anderson. Mainly located at the Elbow Lake and Parkers Prairie Pharmacies, she perceived a career in pharmacy as a good fit for her while working at a pharmacy in high school. She's always been interested in science, math, healthcare and enjoys interacting with customers. Creating new relationships with customers and working with individuals to manage their medications and overall health is very rewarding for Robyn. She says each day brings something new and is always learning new things. In her spare time, she enjoys anything outside! Walking, hiking, gardening and spending time at the lake are a few of her favorite activities.
The rural communities, change of seasons and lakes is why she likes living in central Minnesota. Robyn enjoys being at Trumm Drug because it is a small-town, family, friendly atmosphere focused on caring for our patients.