What is Medicine-On-Time?
It is a medication management system that eliminates the hassle of keeping track of multiple medications, and a packaging system for multiple doses of medications using a calendar card.
Who Benefits?
People of all ages can benefit from a medication management program.
Here are some things to consider…
Do you have difficulty or are you frustrated keeping track of your medications?
Are you concerned about a loved one that needs help managing medications?
This is where we can help you or a loved one, with Medicine-On-Time.
We offer a convenient, simple way to keep track of daily medication so there is no guessing, "Did I take my medication during lunch?" or "Did I remember to pack my medications for our trip?" No more keeping track of your medications every day!
How Does Medicine-On-Time Work?
For a nominal fee… your medications will be prepared in an easy-to-use color coded calendar card. This makes it easier to take your medications, whether morning, afternoon, or evening. Each bubble holds 6 to 12 medications and is labeled with your name, type of medication, date, and time your medicine should be taken.
With this service our pharmacists can meet or stay connected with you regarding your health and medication usage. We communicate with your physician to obtain new refills before you run out.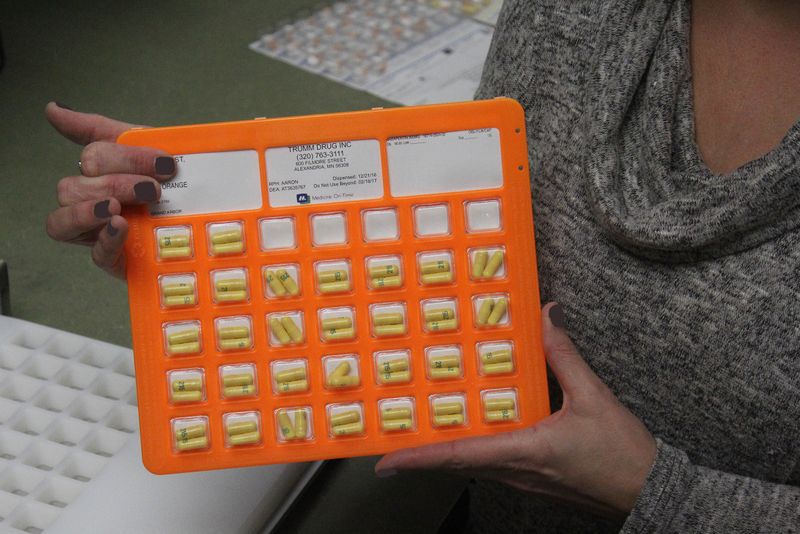 Why should you use Medicine-On-Time?
No more confusing pill boxes
No more counting & sorting pills
Avoid multiple trips to the pharmacy
Avoid missed doses & accidental double doses
Dosage packs are portable & travel ready
Free in-town home delivery
How do I get started with Medicine-On-Time?
If you or a loved one would benefit from Medicine-On-Time, please stop by or give us a call at Trumm Drug downtown to set up an appointment with a pharmacist. Then we can get to know you and your individual needs.